A Cornell University eye-tracking study on click behavior found that the 1st organic listing on Google was clicked four times more than the 2nd organic listing. The difference between ranking #1 and #2 for your business critical keywords can have a huge impact on your online marketing ROI.
Image and quote by SEO Researcher:
They used a sample of undergraduate students instructed to perform search in Google for 397 queries o topics covering movies, travel, music, politics, local and trivia. This study has produced the following results.
The graphic shows the percentage of organic clicks each position received on the Google search engine results page. It also shows the time spent on each listing.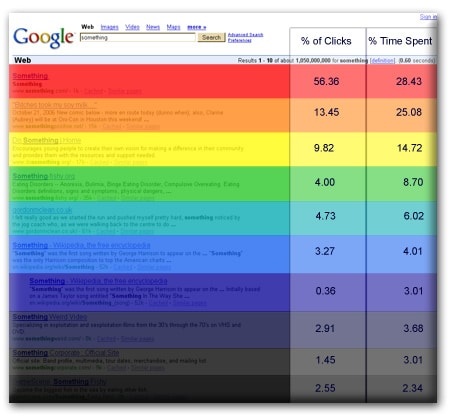 I would be interested in hearing your experiences on the difference between ranking #1 and #2 on Google? How did it effect your bottom-line?
If you need help with your website optimization please contact us.